I've been putting this post off for couple of months afraid of not giving this beautiful book any justice at all. I mean, I love it so much that I don't want people (you) who will read this be spoiled of any part of the book. I want you to experience the beauty, the surprises and twists in it by reading the book itself. It's a great reading experience. Really. It might confuse you like one of high school friend (whom I book-pushed the book really hard to) complained to me. Take it as a challenge and when you get past it, you will have something to brag about (just kidding!) and you will also get to experience Mitchell's beautiful narration and stories. Speaking of stories, this book has an unusual format. It's a book of six (6) interrelated stories that are cut in the middle in the most crucial parts and was continued after the Sloosha's Crossin' an' Ev'rythin' After story (which is the only story that was told as a whole). There were times that I was close of asking every people I know who have read the book if the copy I have has typographical error or if the certain page was torn! But it wasn't. I imagine Mitchell giving us readers his mischievous grin for falling for this gimmick.
Anyway, the six stories are: a) The Pacific Journal of Adam Ewing (1850) – a hard to get by story because of the told history of the Maori and Moriori tribes. It was told in a diary form to tell us the happenings while Adam Ewing was waiting for their ship to be repaired at Chatham Islands. It's one of my favorite stories in the book; b) Letters from Zedelghem (1931) was told in a form of letters by a poor, kicked-out-of-school English musician named Robert Frobisher—who went to Belgium to work as an amanuensis for a great composer named Vyvyan Ayrs—to a guy (assumed lover) named Sixsmith; c) Half-Lives: The First Luisa Rey Mystery (1975) is a story about this young journalist who got tangled with the secret plans of this big corporation who owns the nuclear plant and was revealed to be unsafe with the help of a nuclear physicist. This story is like Dan Brown-ish kind of story; d) The Ghastly Ordeal of Timothy Cavendish (early 21st century) is a story of a publisher named Timothy Cavendish who earned lots of money because of a book but ran away from the three brothers of the author (I forgot the title of the book and the author's name) because of their demands to give them the money they deserved but they didn't know that Cavendish was bankrupted. He was confined in a nursing home against his will by his own brother.  It's a funny story about growing old; e) An Orison of Sonmi ~451 (near future) – this story is the most favorite story of all. It's told in a interview format where an Orison—a recording device—interviews Sonmi, a fabricant or clone, about her execution for being against the totalitarian government of Nea So Copros (Korea). It's like Kazuo Ishiguro's Never Let Me Go x George Orwell's 1984, which are both my favorite reads, too. f) Sloosha's Crossin' an' Ev'rythin' After (post-apocalyptic distant future) which is the story that is really hard to read that I don't even remember the story details but only as a whole. It's a challenge to read it because of the Welsh language (?). It wasn't also right to tell the story after Somni's major cliffhanger that I speed-read this just to start on the next half!
Oh, don't be intimidated with these stories, ha? It may be a lot but they are awesome. It's a mix of different story lines, genres, and writing styles. If you don't know, there are a lot of people who are big fans of the book. Proof? Last October 6, we had a joint discussion (Goodreads TFG and Flips Flipping Pages) at Subspace Cafe, Ortigas, for Cloud Atlas and it was awesome.
and Tina got me a new David Mitchell book, number9dream!
and I wish for a copy of The Thousand Autumn of Jacob de Zoet and Ghostwritten so my Michell books are complete :)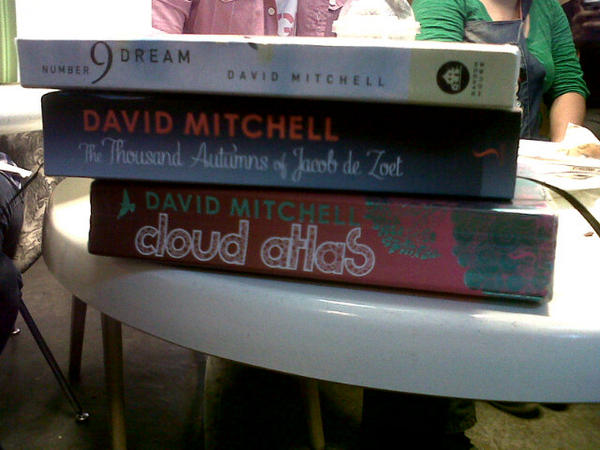 The film adaptation of the book will be shown in the Philippines this November! *squee*